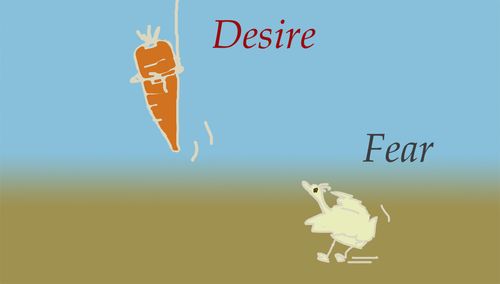 Standing at the kitchen bench, peeling carrots recently, it strikes me that the journey of recent years has been a marriage of DESIRE and FEAR.
There's been this carrot of possibilities constantly dangling in front of my beak...the possibility of creating something glorious and beautiful, the possibility of momentarily connecting with another being. As the story goes, to taste the carrot, one has to bust through the fear... the fear of being judged, the fear of failing, and ultimately the fear of being a complete goose.
If the desire is stronger than the fear, challenging the fears becomes a necessary, even if somewhat uncomfortable process. The unexpected thing is, when you bust through the fear, the joy is exponential. Exponential, because coming out the other side, invites even more possibilities and new experiences.... 
and yeah that probably means more opportunities to be uncomfortable. 
It's good to be a little uncomfortable. Ironic that carrots, are my favourite colour!
Big thank you to the folks who've come along to recent gigs and to the wonderful people at the recent Winterbreak retreat, where I had the opportunity to participate in Michael Fix's guitar workshops, and collaborate &  perform with talented singer-songwriters Kim Banffyand Jodi Murtha.